Tooth implants in Berlin
3D-guided implantology in Berlin Adlershof & Karlshorst


Tooth implants in Berlin –
get advice here:

KARLSHORST

Make a consultation appointment now!
Dental implant – good to know
There are many questions about dental implants. We discover this each day in our dental practices in
Berlin-Adlershof
and
Berlin-Karlshorst
. This is why we have put together all the essential information about dental implants and implantology on this website.
And we can understand the need for comprehensive advice. At the end of the day, the subject of dental implants may become current for every one of us, sooner or later. Because over the course of our lives, almost everyone loses a tooth, or even several teeth – due to dental diseases such as tooth decay or periodontal disease, or due to a tooth injury.
The dental gaps which are created here limit the quality of life of the affected person, sometimes even in a severe manner. And it isn't just the appearance which plays a role here. Also when eating and talking, dental gaps frequently lead to difficulties.
In addition, if a dental gap is uncared for, the jawbone will gradually recede. As a consequence, this can lead to tooth migration, elongation of the opposing teeth and incorrect loading.
Fitting an implant after a tooth injury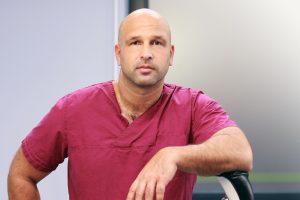 This is why we recommend replacing a missing tooth as quickly as possible. Here, the implant-supported tooth replacement is not just the firm, long-term alternative to a conventional removable denture. Tooth implants can replace the natural tooth almost perfectly, in both appearance and function. This means that with tooth implants, you can smile, talk and bite firmly again without a care.
Strictly speaking, the concept of a tooth implant does not describe the tooth replacement, but only an artificial tooth root. This tooth root implant is screwed firmly into the jawbone and crowned once this has healed. After this, the implant-supported tooth replacement should not be distinguishable from the natural teeth, either by yourself or by other people.
Implantology is one of the most methodically and technically highly developed areas in dentistry today. At the end of the day, sophisticated procedures and the latest technology allow the operations to be carried out in a gentle and extremely precise manner.
At Zahnkultur Berlin, we use 3D guided implantology, for example. With this modern form of inserting tooth implants, the space available in the jaw is used in an optimal manner, as the operation can be planned precisely in advance.
For the insertion of the tooth implant, your dentist at Zahnkultur Berlin will carry out precise calculations at the computer based on your CT and DVT data. In this way, each anatomical detail can be incorporated into the plan. This precise data can be used to create a surgical template which allows the pinpoint placement of the implants. This saves time during the actual operation, allows us to be gentle, and we can achieve ideal aesthetic results.
Thanks to our own laboratory in the practice, we can work in a particularly cost-conscious manner. For example, our prices for more extensive care definitely withstand those of Hungarian tooth implant clinics.
Would you like to learn even more about tooth implants and our implantology  practices? Then have a closer look here or make a consultation appointment directly with us. If you already have a cost estimate from another practice, we would also be happy to prepare an alternative quotation.
The practice owner, Carsten Öztan, and his team are delighted about your interest and are looking forward to your visit!
Kind regards Carsten-Can Öztan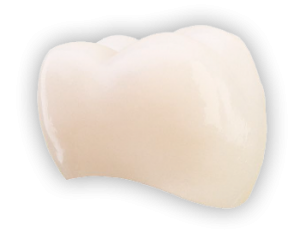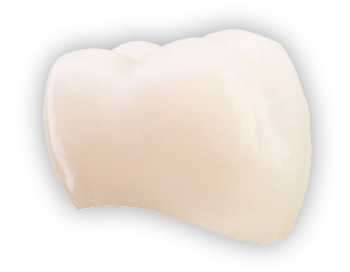 Grouped competence
– Extensive experience
– Daily execution of operations
– Constant further training
– Cooperation with Zahnklinik Ost
– Our own dental laboratory on site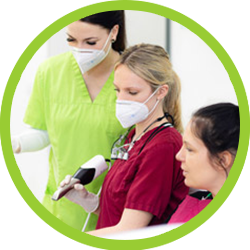 Satisfied patients
– Personal, in-depth consultation
– Consistently transparent planning
– Close consultation with dental technicians
– Conscientious, close after-care
– Option of interest-free payment in instalments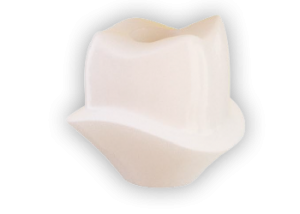 The latest technology
– 3D-guided implantology
– Minimally invasive procedure
– CT and DVT technology
– Biocompatible materials
– The latest dental technology

Structure of a tooth implant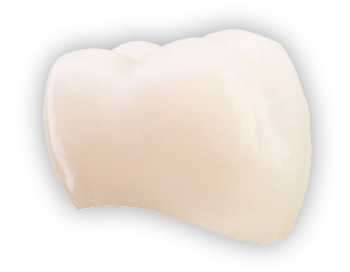 Implant crown (superstructure)

The implant crown or superstructure is the visible part of the implant-supported tooth replacement, meaning the crown, bridge or dentures fastened to the implant structure. There are two bonding processes for this – the firm cementing onto the implant structure and screwing onto the implant structure. At Zahnkultur Berlin, we use both processes and select the right method depending on the individual circumstances.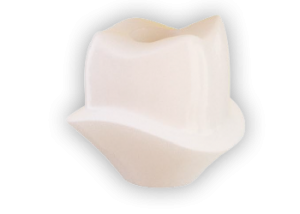 Implant structure (abutment)

The implant structure, or abutment, is the connection between the implant body, meaning the artificial tooth root, and the implant crown. It is screwed tightly with the implant body and mostly consists of titanium, ceramic or a newer material such as zirconium oxide. Finally, the tooth replacement is fastened to the abutment and thus is visible as the actual tooth in the form of a crown, bridge or even dentures.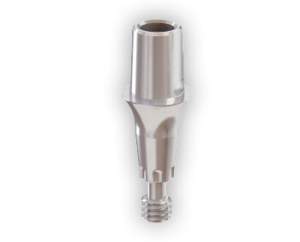 Implant body (tooth implant)

The implant body describes the actual tooth implant and forms the foundation of the firm tooth replacement as an artificial tooth root. At the top end, you can mostly see threads. The second part of the implant, the implant structure, can then be fastened onto these. Depending on the type of implant, we differentiate between screw-shaped or cylinder-shaped implant bodies and hollow and solid implants. At Zahnkultur Berlin, we use these accordingly based on the individual case. Pure titanium is normally used as the material for implant bodies thanks to its good level of compatibility.

Tooth implant not possible?! – With bone construction, it often does work.
For some patients, the jawbones have already receded too much or are too badly damaged, meaning that an immediate implantation is not possible. In these cases, many people affected hear that their case is generally hopeless. We recommend obtaining a second opinion from an experienced implantological practice after hearing statements like this.
It is true that jawbones which are too thin and too damaged cannot hold a tooth implant. But it is usually possible to reconstruct jawbones and thus stabilise them for tooth implantation.
At Zahnkultur Berlin, we use various procedures for this, depending on the situation.
Careful bone construction using your own bone
During jawbone construction, we build the jawbone back up in terms of height and width, for example, using your own bone. For this, we remove bone from the mouth area or other areas of the body using especially sensitive ultrasound instruments, so-called piezoelectric devices. The pressureless, selective and extremely precise work of the piezoelectric device does practically no damage to the surrounding tissue.
The bones removed in this way are modelled accordingly and transplanted into the jaw. When everything goes as planned, the bone transplant will have grown together after just a few weeks. In this way, for example, the tooth implant could can be set after around three months.
In cases where the bottom of the upper jaw has already reduced to a great extent, we have achieved very good results with the so-called sinus-lift method. This is a procedure which specifically raises the bottom of the maxillary sinus. Your own bone is also transplanted for this procedure.
Here, you will find an external link to YouTube with a clear animation about the topic: Youtube Link
We can offer you a personal consultation
If you previously considered yourself to be a "hopeless case", feel free to come for a consultation discussion in one of our practices in Adlershof or Karlshorst. We will assess your case individually and are happy to show you the possible options of bone construction.
About Zahnkultur Berlin
The joint dental practice
Zahnkultur Berlin
was founded in 2010 with the first practice in Berlin-Adlershof. Shortly after, the Karlshorst location was started up. Since then, the team, led by the owner, founder and dentist, Carsten-Can, has continued to grow. Now, around 40 dentists offer the patients in Adlershof and Karlshorst almost all disciplines of modern dentistry.
Trust is important. This is why each of our patients is treated by a specific dentist. However, for special requirements, a corresponding specialist in our practice may be called in to work alongside the regular dentist. With this concept, a close, holistic treatment can be realised and, not least, one based on trust.
Highly qualified and motivated
Another essential feature of our practice concept is the continual further training and qualification measures for our dentist and practice teams. Accordingly, our employees regularly take part in workshops, training courses and other specialist qualification measures. In this way, we ensure that our patients can always be treated according to the latest scientific knowledge and standards.
Our dentist practices were equipped in such a way that we can practise dental care perfectly in every respect. However, at the same time, you should also feel at home. From this point of view, the reception and waiting areas and treatment rooms have been decorated in a modern, open and bright manner. So that absolutely everyone – including our patients with disabilities, seniors with walking aids, parents with prams and pushchairs etc. – can move unrestricted in our practices, they are accessible by wheelchair and all our rooms fitted to be completely barrier free and suitable for people with additional needs.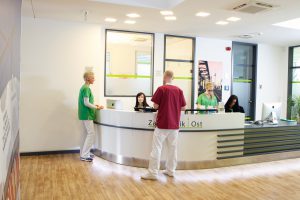 For the complete dental care of our patients using the latest in scientific know-how, we can use diverse technologies, such as digital volume tomography (DVT), computer tomography (CT), fully equipped operating theatres and much more. Thanks to our cooperation with
Zahnklinik Ost
, we can even offer inpatient stays.
Own laboratory – short channels
In the case of a planned tooth implantation, our own dental laboratories – directly in the neighbouring rooms of the practices – are a clear advantage for you as a patient. This means that personal consultations with the dental technicians are possible at any time. Thanks to extensive laboratory technology, our experienced lab team and the use of modern, biocompatible materials, we can realise aesthetically pleasing and high-quality tooth replacements.
You will see that, in our open and barrier-free dental practices in Adlershof and Karlshorst, you are in good hands for all dental issues. Competent, specialised dentists, a qualified practice team, modern technical equipment, a German master dental lab directly on site as well as the use of exclusively high-quality materials and modern technologies at a fair price will ensure you have complete care during your implant operation.
The implantologist and practice owner | Tooth implants in Berlin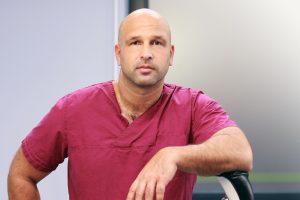 Carsten-Can Öztan
is the owner and head of the joint dental practices
Zahnkultur Berlin
at both sites in Adlershof and Karlshorst
Since 2010
Head of Zahnkultur Berlin (Adlershof & Karlshorst)
Head of Zahnklinik Ost
Established dentist with a focus on implantology
2008/2009
Activity as a dentist with the focuses of implantology/surgery
in the dental practice of Dr. Parusel, Salzgitter
2006 to 2009
Kobenhavns Tandlaege Center, Kopenhagen (Denmark)
Establishment of the implantological department
2005 to 2007
Practising dentist atMedeco, Berlin
1998 to 2004
Study of Dentistry, Oral Hygiene and Orthodontics at the Freie Universität Berlin
Frequently asked questions
Will I feel the tooth implant?

Generally, you cannot feel tooth implants. They assume the function of the natural tooth completely. This means that they feel and look like real teeth.

Is tooth implant treatment painful?

The implant operation itself is completely pain-free thanks to anaesthesia. This takes place as an outpatient operation with local anaesthetic or sedation. General anaesthetic is also possible if desired. Up to two or three days after the operation, there may still be some slight pain. However, conventional painkillers usually help here.

How long to tooth implants last?

Tooth implants are extremely long-lasting. This is proven by scientific studies. These state that over 90 % of tooth implants are still firm after 10 years and continue to fulfil their complete function. By comparison, in the same period, this is only the case for 80 % of bridges and 75 % of individual crowns.
As with natural teeth, however, the long life strongly depends on care and oral hygiene. With thorough dental care and regular check-up appointments (1-2x per year), you can preserve a tooth implant for much longer than 10 years, and sometimes for your whole life. We are happy to advise you on implant treatment. Get in touch!

How much does a tooth implant cost?

The costs for tooth implants are difficult to quantify in general figures. Individually, this depends on the respective findings, the labour involved in treatment, the treatment method, the material used as well as the scope of your health insurance. The extensive personal consultation at Zahnkultur Berlin also includes the preparation of a detailed treatment and cost plan. You can submit this to your health insurance provider. This means that you will know in advance whether and to which amount your health insurance provider will cover the costs for your tooth implant. If required, we offer the option of financing, where you pay the treatment costs in up to twelve instalments without interest or fees.

Will my health insurance provider pay for this?

Sadly, the statutory health insurance providers do not cover the costs for the insertion of tooth implants. However, they do subsidise the prosthetic fitting, meaning the implant crown. If you are privately insured, the reimbursement of costs depends on your tariff. In any case, you should submit the cost and treatment plan which we prepare to your health insurance provider in advance so that you can calculate the costs you will have to cover yourself. If desired and where needed, you have the option of paying the treatment costs in interest and fee-free instalments (max. 12 instalments).

Are there any risks?

Every operation involves risks. This means that complications may also arise during the placement of tooth implants. However, by way of conscientious check-ups, careful advance planning and as precise and careful a method as possible, we can largely minimise the risks.

When can I go back to work after the tooth implantation?

In principle, you can go back to light work such as office activities as early as the following day. Some swelling is usually possible for two or three days after the tooth implant has been inserted, more severe complaints are rare. However, in any case, discuss this with your implantologist and follow their recommendations as much as possible.

How should I look after my tooth implant at home?

Inter-dental cleaning is very important when looking after tooth implants. For this reason, you should thoroughly clean the spaces between your teeth before each time you brush your teeth. Ask your dentist what would be best suited for this in your case: dental floss, inter-dental brushes, super floss or single-tuft toothbrushes. As well as daily implant care at home, regular, professional implant treatment in the dental practice around once or twice per year is particularly important to preserve your tooth implants for longer. Zahnkultur Berlin - Adlershof
Zahnkultur Berlin Adlershof, Dörpfeldstraße, Berlin, Deutschland

Routenplanung
Zahnkultur Berlin - Karlshorst
Zahnkultur Berlin Karlshorst, Treskowallee, Berlin, Deutschland

Routenplanung
Privacy policy
Herzlich willkommen auf www.zahnimplantate-berlin.dental, einem Webangebot von Zahnkultur Berlin | Zahnimplantate Berlin.
In dieser Datenschutzerklärung informieren wir die Nutzer dieser Website gemäß Datenschutzgrundverordnung (DSGVO), Bundesdatenschutzgesetz (BDSG) und Telemediengesetz (TMG) über die Art, den Umfang und den Zweck der Erhebung und Verwendung personenbezogener Daten durch die Websitebetreiber, Carsten-Can Öztan in seiner Funktion als Geschäftsführer der Zahnkultur Berlin, ÜBAG Öztan & Partner GbR (im Folgenden: Websitebetreiber). 

Zudem erläutern wir Ihnen die Rechte, die Nutzer dieser Website bezüglich der Speicherung und Verwendung ihrer persönlichen Daten haben, inkl. die Widerrufsrechte.

Bitte lesen Sie diese Datenschutzerklärung daher sorgfältig.
1. Geltungsbereich
Die o. g. Websitebetreiber nehmen den Datenschutz sehr ernst und behandeln Ihre personenbezogenen Daten vertraulich, zweckgebunden und entsprechend der gesetzlichen Vorschriften. Wir erheben und verwenden Ihre personenbezogenen Daten ausschließlich im Rahmen der Bestimmungen des Datenschutzrechts der Bundesrepublik Deutschland bzw. der Europäischen Union.
Auf den Internetseiten, zu denen wir verlinken, kann es eine andere Datenschutzerklärung geben. Um diese zu überprüfen, sollten Sie die Website des jeweiligen Angebots aufsuchen und sich bei Bedarf direkt an den jeweiligen Anbieter wenden. Wir können keine Verantwortung für die Inhalte oder für die Datenschutzerklärung der externen Ressourcen übernehmen. Für die Inhalte externer Links sind ausschließlich deren Betreiber verantwortlich.
Im Folgenden erläutern wir Ihnen, welche Informationen wir während Ihres Besuchs auf unseren Webseiten erfassen und wie diese genutzt werden:
2. Datenerfassung ggf. personenbezogener Daten
Bei jedem Abruf durch einen Nutzer auf eine Ressource aus unserer Website werden Daten über diesen Vorgang in einer Protokolldatei gespeichert. Die Websitebetreiber erheben Daten über Zugriffe auf die Seite und speichern diese als "Server-Logfiles" ab. Folgende Daten werden so protokolliert:
besuchte Webseite, Uhrzeit zum Zeitpunkt des Zugriffes, Menge der gesendeten Daten in Byte, Quelle/Verweis, von welchem Server Sie auf die Seite gelangten, verwendeter Browser, verwendetes Betriebssystem, anonymisierte IP-Adresse
Diese Daten werden getrennt von anderen Daten, die Sie im Rahmen der Nutzung unseres Angebotes eingeben, gespeichert. Eine Zuordnung dieser Daten zu einer bestimmten Person, d. h. die Identifizierung der Person, ist uns durch die Anonymisierung der IP-Adresse nicht möglich. Darüberhinausgehende personenbezogene Angaben, wie Ihr Name, Ihre Anschrift, Telefonnummer oder E-Mail-Adresse werden nicht erfasst.
3. Umgang mit Kontaktdaten
Nehmen Sie mit den Websitebetreibern durch die angebotenen Kontaktmöglichkeiten, z. B. über das Kontaktformular, Verbindung auf, werden Ihre freiwilligen Angaben zweckmäßig gespeichert, damit auf diese zur Bearbeitung und Beantwortung Ihrer Anfrage zurückgegriffen werden kann.
4. Kontaktformular
Auf dieser Website gibt es die Möglichkeit, ein Kontaktformular zu nutzen. Hierfür müssen Sie lediglich Ihre E-Mail-Adresse eingeben. Weitere Angaben sind freiwillig.
Sämtliche persönliche Daten und Informationen, die über dieses Online-Formular erhoben und übermittelt werden, werden von dem Websitebetreiber nur zur Bearbeitung der darin übermittelten Anfrage und/oder Abwicklung des damit ggf. erteilten Auftrags verwendet, gespeichert und/oder weitergeleitet.
Die Einwilligung zur Speicherung der personenbezogenen Daten kann jedoch jederzeit widerrufen werden.
5. Nutzung und Weitergabe personenbezogener Daten
Soweit Sie uns personenbezogene Daten zur Verfügung gestellt haben, verwenden wir diese ausschließlich zum Zweck der technischen Administration unserer Webseiten und zur Erfüllung Ihrer Wünsche und Anforderungen, insbesondere zur Abwicklung des mit Ihnen ggf. geschlossenen Vertrags, zur Bearbeitung Ihrer Bewerbung oder zur Beantwortung Ihrer Anfrage.
Eine Weitergabe, ein Verkauf oder sonstige Übermittlung Ihrer personenbezogenen Daten an Dritte erfolgt nicht, es sei denn, dass dies zum Zwecke der Vertragsabwicklung oder zu Abrechnungszwecken erforderlich ist und/oder Sie der Datenübermittlung zuvor eingewilligt haben.
Sie haben das Recht, eine solche Einwilligung mit Wirkung für die Zukunft jederzeit zu widerrufen. Die Löschung der personenbezogenen Daten erfolgt, wenn Sie Ihre Einwilligung zur Speicherung widerrufen, wenn die Datenkenntnis zur Erfüllung des mit der Speicherung verfolgten Zwecks nicht mehr erforderlich ist oder ihre Speicherung aus sonstigen gesetzlichen Gründen unzulässig ist.
6. Cookies
Sogenannte Cookies sind Textdateien, die automatisch bei dem Aufruf einer Webseite lokal im Browser des Besuchers abgelegt werden. Unsere Website verwendet Cookies, um den Webauftritt nutzerfreundlich und funktionaler zu gestalten. Zudem werden sicherheitsrelevante Funktionen zum Schutz Ihrer Privatsphäre durch den Einsatz von Cookies ermöglicht.
Gängige Browser bieten die Einstellungsoption, Cookies nicht zuzulassen. Bitte beachten Sie jedoch, dass Sie ggf. nicht auf alle Funktionen dieser Website ohne Einschränkungen zugreifen können, wenn Sie entsprechende Einstellungen vornehmen.
7. Google Analytics
Diese Website benutzt Google Analytics, einen Webanalysedienst der Google Inc. (kurz: Google), 1600 Amphitheatre Parkway Mountain View, CA 94043, USA.
Google Analytics verwendet sog. "Cookies", Textdateien, die auf Ihrem Computer gespeichert werden und die eine Analyse Ihrer Benutzung dieser Website ermöglichen. Die durch Cookies erzeugten Informationen über Ihre Nutzung dieser Website (einschließlich Ihrer anonymisierten IP-Adresse) wird an einen Server von Google in den USA übertragen und dort gespeichert.
Google wird diese Informationen verwenden, um Ihre Nutzung der Website auszuwerten, um Reports über die Websiteaktivitäten für die Websitebetreiber zusammenzustellen und um weitere mit der Websitenutzung und der Internetnutzung verbundenen Dienstleistungen zu erbringen.
Auch wird Google diese Informationen gegebenenfalls an Dritte übertragen, sofern dies gesetzlich vorgeschrieben ist oder soweit Dritte diese Daten im Auftrag von Google verarbeiten.
mehr zu Google Analytics
Google wird in keinem Fall Ihre IP-Adresse mit anderen Daten von Google in Verbindung bringen.
Weitere Informationen zur Datennutzung durch Google sowie die Datenschutzerklärung der Google Inc. finden Sie hier: https://support.google.com/analytics/answer/6004245?hl=de
Durch die Nutzung dieser Website erklären Sie sich mit der Bearbeitung der über Sie erhobenen Daten durch Google in der zuvor beschriebenen Art und Weise und zu dem zuvor benannten Zweck einverstanden.
mehr zu Google Analytics
Möchten Sie das nicht, können Sie die Installation der durch Google verwendeten Cookies durch eine entsprechende Einstellung Ihrer Browser-Software verhindern. Folgender Link führt Sie zu dem entsprechenden Plugin: https://tools.google.com/dlpage/gaoptout?hl=de
Alternativ verhindern Sie mit einem Klick auf den folgenden Link, dass Google Analytics innerhalb dieser Website Daten über Sie erfasst. Ein entsprechender Hinweis, inkl. Link, erscheint zudem automatisch beim Öffnen unserer Website und jeder dazugehörigen Unterseite.
Verbiete Google Analytics, mich zu verfolgen
Beachten Sie: Mit Klick auf den genannten Link laden Sie ein "Opt-Out-Cookie" herunter. Hierfür muss Ihr Browser die Speicherung von Cookies also grundsätzlich erlauben. Löschen Sie Ihre Cookies regelmäßig, ist ein erneuter Klick auf den Link bei jedem Besuch dieser Website vonnöten.
Wir weisen Sie zudem darauf hin, dass Sie im Fall der Blockierung der Google Analytics und generell von Cookies, gegebenenfalls nicht sämtliche Funktionen dieser Website vollumfänglich nutzen können.
8. Google Maps
Diese Website benutzt Google Maps, einem Online-Dienst zur Darstellung von Karten und Erstellung von Anfahrtsplänen der Google Inc. (kurz: Google), 1600 Amphitheatre Parkway Mountain View, CA 94043, USA.
Durch die Nutzung dieser Website erklären Sie sich mit der Erfassung, Bearbeitung sowie der Nutzung der automatisch erhobenen sowie der von Ihnen eingegeben Daten durch Google, einer seiner Vertreter, oder Drittanbieter einverstanden.
Die Nutzungsbedingungen für Google Maps finden Sie unter Nutzungsbedingungen für Google Maps. Ausführliche Details finden Sie im Datenschutz-Center von google.de: Transparenz und Wahlmöglichkeiten sowie  Datenschutzbestimmungen.
9. Google AdWords
Diese Website nutzt den Google-Marketingdienst "Google AdWords" (kurz: AdWords). Hierbei handelt es sich um ein Online-Werbeprogramm der Google Inc., 1600 Amphitheatre Parkway, Mountain View, CA 94043, USA, ("Google").
Im Fall von Google AdWords, erhält jeder AdWords-Kunde ein anderes "Conversion-Cookie". Auch für diese Website haben die Websitebetreiber solch ein Cookie erhalten, d. h. nicht aktiv gesetzt. Sie können dieses Cookie somit nicht über diese Website hinaus nachverfolgen.
Die mit Hilfe des Cookies eingeholten Informationen dienen dazu, Conversion-Statistiken für die geschaltete AdWords-Werbung zu erstellen, d. h. den Rücklauf zu tracken.
Die Websitebetreiber erfahren die Gesamtanzahl der Nutzer, die auf die Anzeigen geklickt haben und zu einer der Webseiten weitergeleitet wurden, die mit einem Conversion-Tracking-Tag versehen sind. Sie erhalten jedoch keine Informationen, mit denen sich Nutzer persönlich identifizieren lassen.
mehr zu Google Ads
Weitere Informationen zur Datennutzung zu Marketingzwecken durch Google, finden Sie auf der Übersichtsseite: https://www.google.com/policies/technologies/ads
Die Datenschutzerklärung von Google ist unter https://www.google.com/policies/privacy abrufbar.
Wenn Sie der interessensbezogenen Werbung durch Google-Marketing-Services widersprechen möchten, können Sie die von Google gestellten Einstellungs- und Opt-Out-Möglichkeiten nutzen: http://www.google.com/ads/preferences
10. GA Audience
Unsere Website benutzt den GA Audience ("GA Audience"), einen Webanalysedienst der Firma Google Inc., 1600 Amphitheatre Parkway, Mountain View, CA 94043, USA ("Google").
GA Audiences erhebt und speichert Daten, aus denen unter Verwendung von Pseudonymen Nutzungsprofile erstellt werden. Durch diese Technologie wird Nutzern, die unsere Internetseiten und Onlinedienste bereits besucht haben, zielgerichtet Werbung von uns auf anderen externen Seiten des Google Partner Netzwerks angezeigt.
GA Audience verwendet dafür unter anderem Cookies, die auf Ihrem Computer sowie sonstigen Mobilgeräten (z.B. Smartphones, Tablets etc.) gespeichert werden und die eine Analyse der Benutzung der entsprechenden Geräte ermöglichen. Zudem erhält Google Audience Zugriff auf die im Rahmen der Verwendung von Google AdWords und Google Analytics erstellten Cookies.
Die Daten werden dabei zum Teil geräteübergreifend ausgewertet, um das Nutzerverhalten beim Besuch der Website zu analysieren und anschließend für gezielte Produktempfehlungen und interessenbasierte Werbung nutzen zu können.
mehr zu GA Audience
Im Rahmen der Benutzung können Daten, wie insbesondere die IP-Adresse und Aktivitäten der Nutzer, an einen Server der Firma Google Inc. übermittelt und dort gespeichert werden. Die Google Inc. wird diese Informationen gegebenenfalls an Dritte übertragen, sofern dies gesetzlich vorgeschrieben ist oder soweit eine Verarbeitung dieser Daten durch Dritte stattfindet.
Sie können die Erfassung und Weiterleitung personenbezogener Daten (insb. Ihrer IP-Adresse) sowie die Verarbeitung dieser Daten verhindern, indem Sie die Ausführung von JavaScript in Ihrem Browser deaktivieren oder ein Tool wie 'NoScript' installieren.
Wenn Sie die Erfassung der durch den Google-Cookie erzeugten und auf Ihre Nutzung der Website bezogenen Daten (inkl. Ihrer IP-Adresse) an Google sowie die Verarbeitung dieser Daten durch Google verhindern möchten, können Sie unter dem folgenden Link http://tools.google.com/dlpage/gaoptout?hl=de das dort verfügbare Browser-Plugin herunterladen und installieren.
Weiterführende Informationen zum Datenschutz bei der Nutzung von GA Audience können Sie unter dem nachfolgenden Link abrufen: https://support.google.com/analytics/answer/2700409?hl=en&ref_topic=2611283
11. Einbindung des Jameda-Siegels
Auf unserer Website sind an einigen Stellen Jameda-Siegel eingebunden, die die Bewertung einzelner Behandler beim Arztbewertungsportal Jameda der Jameda GmbH (kurz: Jameda), St. Cajetan-Straße 41, 81669 München ("Jameda"), in Echtzeit abbilden. Über Klick auf die Siegel kann der Nutzer auf das entsprechende Jameda-Profil gelangen. Dabei handelt es sich um eine einfache Verlinkung.
Durch Klick auf das Jameda-Logo und/oder ein Jameda-Siegel werden keine Cookies gesetzt und personenbezogenen Daten (wie beispielsweise die IP-Adresse) werden nicht übermittelt. Es werden lediglich die Zugriffe auf die jeweilige Jameda-Webseite erfasst bzw. die reinen Klicks auf das Siegel gezählt, ohne Bezug zum jeweiligen Nutzer.
Weitere Informationen zum Umgang von Jameda mit personenbezogenen Daten entnehmen Sie bitte der Jameda-Datenschutzerklärung: https://www.jameda.de/jameda/datenschutz.php
12. Rechte des Nutzers
Als Nutzer dieser Website haben Sie bei der Verarbeitung Ihrer Daten folgende Rechte gem. DSGVO:
Sie haben das Recht eine Bestätigung darüber zu verlangen, ob Sie betreffende personen-bezogene Daten verarbeitet werden. Ist dies der Fall, so haben Sie ein Auskunftsrecht bezüglich dieser personenbezogenen Daten und den in Art. 15 DSGVO im einzelnen aufgeführten Informationen.
Sie haben das Recht, unverzüglich die Berichtigung von Sie betreffenden unrichtigen personen-bezogenen Daten und/oder die Ergänzung unvollständiger personenbezogener Daten zu verlangen (Art. 16 DSGVO).
Außerdem haben Sie das Recht, zu verlangen, dass Sie betreffende personenbezogene Daten unverzüglich gelöscht werden, sofern einer der in Art. 17 DSGVO im einzelnen aufgeführten Gründe zutrifft, z. B. wenn die Daten für die verfolgten Zwecke nicht mehr benötigt werden.
Sie haben das Recht, die Einschränkung der Verarbeitung Ihrer Daten zu verlangen, wenn eine der in Art. 18 DSGVO aufgeführten Voraussetzungen gegeben ist.
In bestimmten Fällen haben Sie gem. Art. 20 DSGVO das Recht, die Sie betreffenden personenbezogenen Daten in einem strukturierten, gängigen und maschinenlesbaren Format zu erhalten bzw. die Übermittlung dieser Daten an einen Dritten zu verlangen.
mehr zu Rechten des Nutzers
Werden Daten auf Grundlage von Art. 6 Abs. 1 lit. f erhoben (Datenverarbeitung zur Wahrung berechtigter Interessen), steht Ihnen gem. Art. 21 DSGVO das Recht zu, aus Gründen, die sich aus Ihrer besonderen Situation ergeben, jederzeit gegen die Verarbeitung Widerspruch einzulegen.
Wir werden die personenbezogenen Daten dann nicht mehr verarbeiten, es sei denn, es liegen nachweisbar zwingende schutzwürdige Gründe für die Verarbeitung vor, die die Interessen, Rechte und Freiheiten der betroffenen Person überwiegen, oder die Verarbeitung dient der Geltendmachung, Ausübung oder Verteidigung von Rechtsansprüchen.
Sie haben gem. Art. 77 DSGVO das Recht auf Beschwerde bei einer Aufsichtsbehörde, wenn Sie der Ansicht sind, dass die Verarbeitung der Sie betreffenden Daten gegen datenschutzrechtliche Bestimmungen verstößt. Das Beschwerderecht kann insbesondere bei einer Aufsichtsbehörde in dem Mitgliedstaat Ihres Aufenthaltsorts, Ihres Arbeitsplatzes oder des Orts des mutmaßlichen Verstoßes geltend gemacht werden.
13. Datenschutzbeauftragter
Der externe Datenschutzbeauftragte der Zahnkultur Berlin / ÜBAG Öztan & Partner und damit Ihr Ansprechpartner für sämtliche Fragen rund um den Datenschutz und den Umgang mit Ihren persönlichen Daten ist:
Maik Prömel
Sommerwiesenweg 34
12557 Berlin
14. Einbeziehung, Gültigkeit und Aktualität der Datenschutzerklärung
Die Datenschutzerklärung ist aktuell gültig und datiert vom 18.05.2018.

 Durch die Weiterentwicklung dieser Website oder die Implementierung neuer Technologien kann es notwendig werden, diese Datenschutzerklärung zu ändern.
Wir behalten uns vor, die Datenschutzerklärung mit Wirkung für die Zukunft zu ändern und empfehlen Ihnen, sich die aktuelle Datenschutzerklärung von Zeit zu Zeit erneut durchzulesen.
Legal notice
Information according to Section 5 of the German Telecommunications Act (TMG)
Service provider:
tooth implants berlin: ZAHNKULTUR BERLIN
Supra-regional dental professional association Öztan & Partner GbR
Dörpfeldstraße 46
12489 Berlin
Managing partner:
Carsten-Can Öztan
Telefon:
030 565 90 50 0
Fax:
030 565 90 50 20
E-Mail:
kontakt@zahnkultur-berlin.de
The professional designation of Dentist has been granted in the Federal Republic of Germany.
Responsible chamber:
Zahnärztekammer Berlin, Stallstraße 1, 10585 Berlin (www.zaek-berlin.de)
Responsible dental insurance union:
Kassenzahnärztliche Vereinigung Berlin, Georg-Wilhelm-Straße 16, 10711 Berlin (www.kzv-berlin.de)
The following regulations concerning professional law apply:
The Act for Practising Dental Medicine (ZHG), Berlin Chamber Laws for the Healthcare Professions, Occupational Order of the Berlin Chamber of Dentists, Scale of Fees for Dentists (GOZ)
The regulations stated can be viewed on the website of the Berlin Chamber of Dentists (www.zaek-berlin.de)
CONCEPT, DESIGN AND IMPLEMENTATION OF THE WEBSITE:

tooth implants Berlin:
FJELLFRAS – Studio für Bewegtbild und Kommunikation
www.fjellfras.com
PHOTOS
Mirko Plha
www.plha.de
Nicole Schnittfincke
www.fotomanufaktur.schnittfincke.de
Zusätzliche Fotos:
© DENTSPLY-Implants
© psdesign1 (Fotolia)
LIMITATION OF LIABILITY 
The contents of this website were created with the greatest care. However, the provider accepts no liability for the correctness, completeness and up-to-dateness of the provided contents. Use of the website contents takes place at the user's own risk. Contributions identified by name represent the opinion of the respective author and not necessarily the opinion of the provider. The pure use of the provider's website does not generate any contractual relationship between the user and the provider.
External links:
This website contains links to the websites of third parties ("external links"). These websites are subject to the liability of the respective operator. The provider checked the third-party contents for any legal violations when the external links were first created. At this time, no legal violations were apparent.
The provider has no influence whatsoever over the current and future design and contents of the linked websites. Placing external links does not mean that the provider makes the content behind the reference or link his own. Constant control of the external links is not reasonable for the provider without concrete indications of any legal violations. If the provider becomes aware of legal violations however, these external links shall be deleted without delay.
Copyright and ancillary rights:
The contents published on this website are subject to German copyright and ancillary rights. Any use which is not permitted by German copyright and ancillary rights requires the prior written permission of the provider or respective copyright holder. This applies in particular to copying, editing, translation, storage, processing or reproduction of contents in databases or other electronic media and systems.
Contents and the rights of third parties are indicated as such. The unauthorised reproduction or distribution of individual contents or complete pages is not permitted and is punishable by law. Only the production of copies and downloads for personal, private and non-commercial use is permitted. The representation of this website in external frames is only permitted with written permission.